The brake system in your Nissan helps slow down and stop your vehicle when you desire with the push of the pedal. And the team here at Ramsey Nissan will make sure that the brakes on your car, SUV, truck or van are running efficiently.
It's recommended that you get your brakes inspected regularly at our Nissan service center serving Paramus NJ since they're one of the parts that receives the most wear & tear over the life of your vehicle. And each part needs to be repaired or even replaced on a regular basis to ensure the best performance for your vehicle.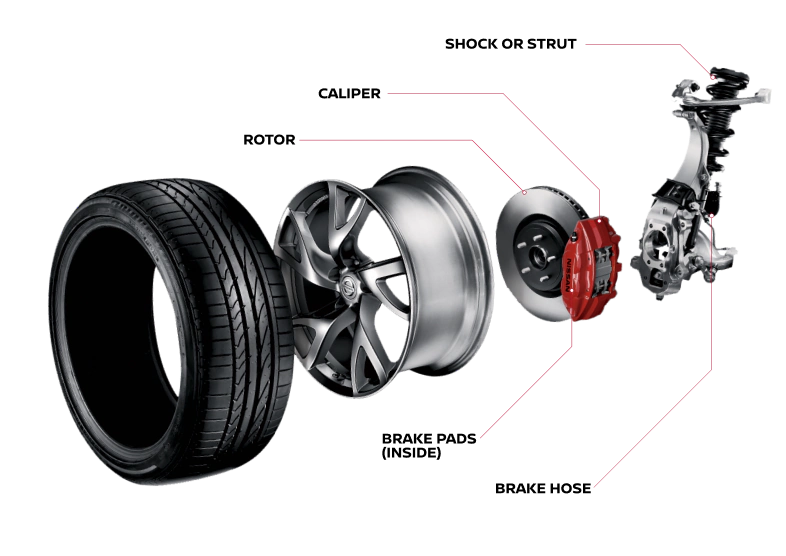 Parts of Your Nissan Brake System
The rotor and pad that work together to create the friction needed to stop your vehicle.
The caliper that houses both the pad & rotor
The hose that carries the brake fluid from the line to the caliper
The shock or strut that aids in stopping the vehicle when the brake pedal is pressed
The Nissan brakes experts here at our Bergen County NJ repair center location have years of experience of working on popular cars like the Altima, Sentra & Maxima, along with SUVs such as the Rogue, Pathfinder & Murano. In fact, they're trained to perform any brake service on any Nissan model!
Are you unsure if you need your brakes serviced? A few signs that you may need to get a repair or replacement done include:
A squeaking noise, grinding sound and/or shaking feeling occurring as you apply the pedal
Having to apply the brake pedal harder to slow down and/or stop your vehicle
Seeing an unusual fluid under your vehicle's wheels after you've parked your car
The Ramsey Nissan service team is here if you have any questions about your vehicle's brakes. We're also open 6 days a week and have availability by appointment to perform the services your car needs, so do not hesitate to contact us to make sure that your brake system is working properly or if some work needs to be done.