Car batteries are a driving force behind ensuring that your Nissan runs smoothly, and in fact runs at all. That's why our Nissan parts center serving Paramus NJ offers a number of different battery choices to meet your specific vehicle's needs!
There are 3 different types of batteries available, with the most common type being the standard flooded battery. These wet filled free-floating electrolyte car batteries fit most automobile models and are designed for high cranking or high cycling.
The second is the enhanced flooded battery that ups the ante compared to its standard flooded counterpart by offering more power and support for start-stop technology that helps increase fuel efficiency. Absorbed glass mat batteries hold the electrolyte in glass mat separators rather than freely flooding plates and not only provide more performance & durability, but supports start-stop technology with regenerative braking and passive boost.
Our Nissan-certified technicians can determine which battery is right for your vehicle. And we have batteries designed specifically for the many cars, SUVs, trucks and vans in the Nissan family.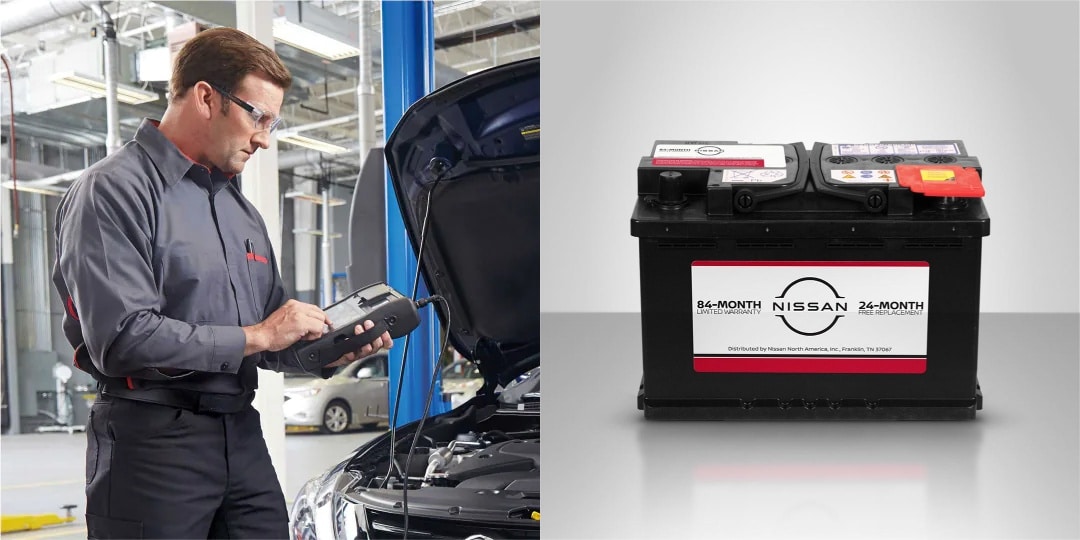 All of our Nissan genuine batteries meet your vehicle's original specifications and come with an 84-month limited warranty to cover future issues that may occur. In addition, these batteries come with free replacement for 24 months starting from the day our team installs your battery into your vehicle.
If you're having an issue with your car's battery, you can take it to our Nissan service center serving Hawthorne NJ to get a complimentary inspection. Part of our multi-point vehicle inspection, our battery diagnostic test will determine what's wrong with your current battery and if a replacement is required.
This battery inspection can be done as part of our Express Service, so an appointment is not required. We'll be able to take care of your battery check in as little as 30 minutes!
You can also benefit from our Nissan service coupons that are updated regularly to include battery replacements and other key maintenance & repairs that your vehicle will need. Contact Ramsey Nissan today to learn more about what our technicians can do for your car, truck, SUV or van!