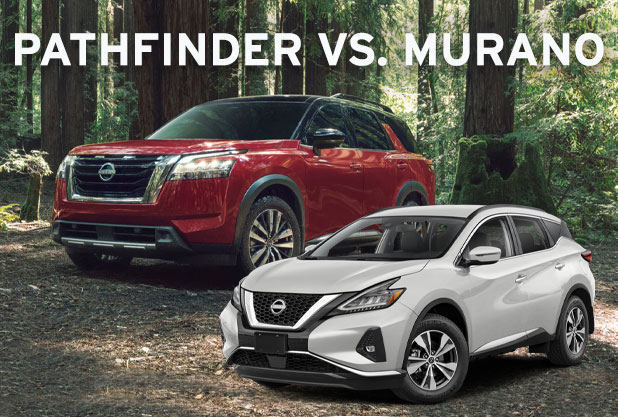 Nissan is recognized for creating innovative, high-quality vehicles. Due to this, Nissan's entire 2023 lineup oozes appeal and passion. Have you ever wondered what distinguishes Nissan's cars and SUVs from others? In our family-friendly version, we compare the 2023 Pathfinder and 2023 Murano.
The Ramsey Nissan team consistently demonstrates its commitment to Nissan. Matching Bergen County drivers with the ideal Nissan matters; your driving comfort is essential.
Let's compare the 2023 Murano vs. 2023 Pathfinder to help you make a suitable car buying decision.
Contact us
to set up an appointment!
2023 Murano vs. 2023 Pathfinder: Family-Friendly Edition
Nissan owns both vehicles we're comparing, so each boast superior design and quality craftsmanship. Ultimately, you choose which of the two best fits your family. To assist you in getting to know them, here is a brief breakdown: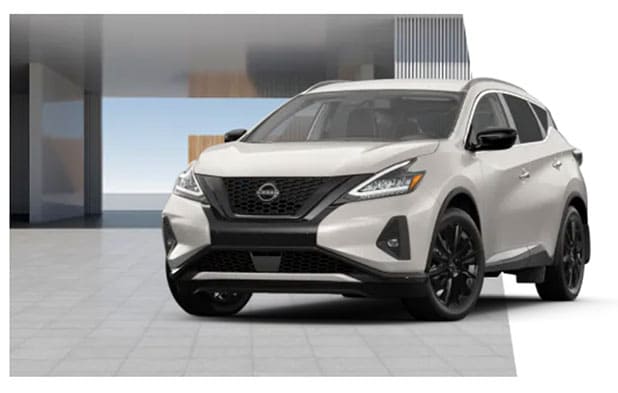 2023 Nissan Murano
The 3.5L V6 engine in the 2023 Nissan Murano produces 260 Horsepower at 6,000 rpm. The Murano offers sufficient power in a crossover. But how does the Murano fair to the Pathfinder? Let's take a look at what it has to offer.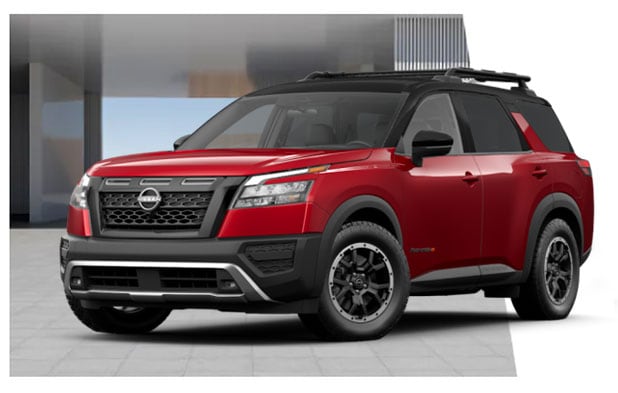 2023 Nissan Pathfinder
The Nissan Pathfinder of 2023 is a powerhouse. Driving in Hillsdale or towing large boats won't be a problem thanks to the robust 284 HP, 3.5 Liter V6 engine.
The Pathfinder's new 9-speed automatic transmission helps increase fuel efficiency. Not only that, but it also provides quick responses and better handling. The Pathfinder is the SUV in our comparison with the highest power.
Pick one of the seven available driving and terrain modes to adjust your experience.



2023 Murano vs. 2023 Pathfinder: Towing Capacity
Greater power enables greater towing capacity. These two assertive vehicles have a wide range of hauling abilities. The Murano can transport smaller workloads of up to 1,500 lbs, whereas the 2023 Pathfinder offers up to 6,000 lbs.
Towing capacity effectively manages hauls and excursions for more fun. So if towing is vital to your Ridgewood family, consider the Pathfinder over the Murano.



Murano vs. 2023 Pathfinder: Exterior Dimensions
The exterior of a vehicle matters when fitting into a small parking spot or quickly zipping around town. Dimensions are crucial to whether you want a large, medium, or small SUV for your family. Here are the exterior dimensions as we compare the 2023 Murano vs. 2023 Pathfinder:
Nissan Murano
The Murano measures are a beautiful alternative if the Pathfinder is too big for your requirements.
Wheelbase of 111.2 in
The total length of 192.8 in
Height of 67.8 in
Overall width of 75.4 in

Nissan Pathfinder
The second-largest SUV in the Nissan lineup is the Pathfinder. The Pathfinder is also the larger of the two SUVs in our comparison.
Wheelbase of 114.2 inches
The total length of 197.7 inches
Height of 66.9 inches
Overall width of 77.9 inches



Murano vs. Pathfinder: Seating and Cargo Space
The 2023 Nissan Pathfinder offers the most prominent passenger space and the largest SUV in this comparison. There is room for up to 8 passengers with its third row, which is the better option for large families.
The 2023 Nissan Murano has two seats accommodating up to five passengers. You can count on it to offer a roomy interior for enhanced comfort.
The Pathfinder is more prominent, but consider the Murano, which is smaller yet powerful.
Which SUV is better for your family depends on how much cargo space you need. The maximum load capacity of the 2023 Pathfinder is 79.8 cu ft.
The Pathfinder is impressive with its generous interior room, straightforward second- and third-row seat folding, and user-friendly design. Its folding seats in the second and third rows make the ground flat for even more space.
The 2023 Nissan Murano is smaller than the Pathfinder in cargo space, measuring 74.4 cu. ft. when the second row is folded down. But changes to 37.7 cu. ft. when the back seats are back up.
Both vehicles come with the option of Motion Activated Liftgates. Whether you're hauling groceries or luggage, loading and unloading is easy.
There is more to explore when comparing the 2023 Murano vs. the 2023 Pathfinder, and we encourage you to at Ramsey Nissan!



Compare the 2023 Murano vs. 2023 Pathfinder at Ramsey Nissan!
See what the 2023 Murano and Pathfinder have to offer your family in person. Our team is happy to show you their differences at our Nissan dealership! We recommend the
Pathfinder Rock Creek 2023
or the
Nissan Murano Platinum
as your next family SUV. Connect with us today!