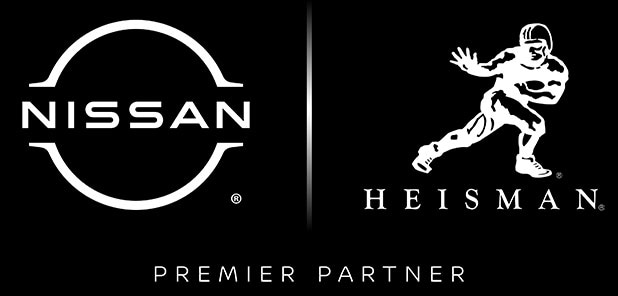 The word 'competition' eats, breathes, and sleeps at the
2022 Nissan Heisman House
. Athletes who have trained their entire lives gather in one place. The
2022 Nissan Heisman Campaign allows the spirited athlete to participate in television commercials, interact during various touch-points throughout the season, and more.
Fans engage with the campaign through online challenges, such as on TikTok, Twitter with ESPN, and the newly revised virtual 2022 Heisman House.
At Ramsey Nissan near Fair Lawn, NJ, we are your
go-to Nissan dealer
that runs interference to help you find the best
Nissan car, truck, or SUV.
Contact us
today to ...


How Can Fans Participate In The 2022 Nissan Heisman House?
We've mentioned some online ways that football fans near Nanuet, NY, can partake in the experience, but there's more! Football fans can experience Nissan campus in-person tours via the Heisman House and Dealerships with the Heisman trophy tour. The thrilling Nissan vehicles featured; are the 2022 Nissan Z and the all-electric 2022 Nissan ARIYA, 2023 Pathfinder Rock Creek, Frontier, and the all-new Altima. So, get ready cause' College Football season is upon us, and ready for another tremendous Heisman Trust partnership in the 2022 Nissan Heisman Campaign.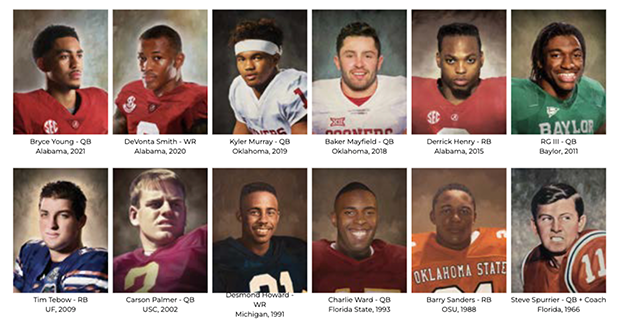 2022 Nissan Heisman House Football Players
As a football fan, you might want to know the football players who are punting this year's Nissan Heisman Campaign into action. Each player is familiar, dedicated, hard-working, and known by you. Count on the following twelve Heisman trophy winners:
Steve Spurrier - QB and Coach, Florida 1966
Barry Sanders - RB OSU, 1988
Charlie Ward, QB, Florida State, 1993
Desmond Howard - WR, Michigan, 1991
Carson Palmer - QB, USC, 2002
Tim Tebow - RB UF, 2009
RG III - QB, Baylor, 2011
Derrick Henry - RB Alabama, 2015
Baker Mayfield - QB, Oklahoma, 2018
Kyler Murray - QB Oklahoma, 2019
DeVonta Smith - WR, Alabama, 2020
Bryce Young - QB, Alabama, 2021
These known football players interact in humourous light-hearted campaigns that audiences love with their passion for football. Let's have fun with the 2022 Heisman House campaign and kick off the college football year!
It's Heisman Time!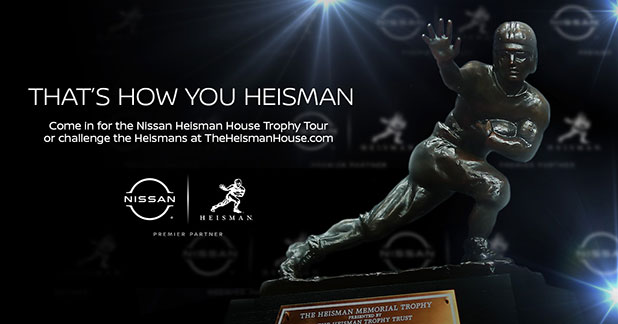 Ramsey Nissan Supports the 2022 Heisman House Campaign!
At Ramsey Nissan, we don't mind some friendly competition, which is why many Glen Rock, NJ, drivers choose us as their Nissan dealership. We work hard like athletes and keep ourselves up-to-date within our various fields.
Choose Ramsey Nissan for all your vehicle needs. Our team is ready to huddle to find you a Nissan that will be a touchdown for you or your College student. Connect with us today!