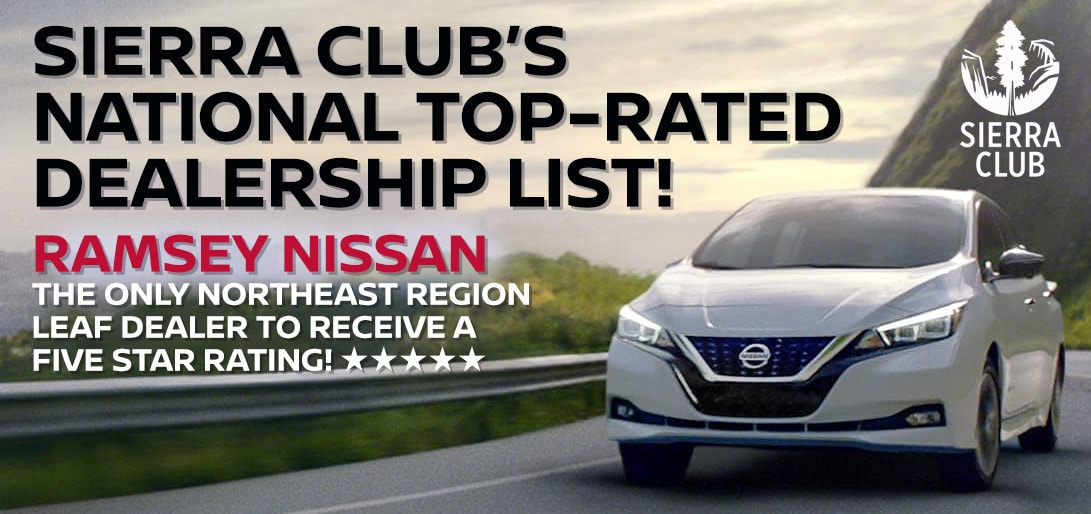 Ramsey Nissan is pleased to announce that we are just 1 of 88 Electric Vehicle (EV) dealerships in the entire country to earn a spot on the Sierra Club National Top-Rated Dealership list!
In fact, we're the only Nissan LEAF dealership in NJ & the whole northeast region to receive a 5-star rating! This is based on the customer service experience that 579 volunteers had when calling and/or visiting more than 909 car dealerships & stores. Some of them even bought an EV during the process and we hope at least one was purchased or leased at Ramsey Nissan.
We want to thank the volunteers who reported the great experience they had at our dealership to the Sierra Club for helping us get a 5-star rating. We're also grateful to our team for their hard work to have the EV knowledge & satisfying customer service those shoppers were looking for.
Some statistics that the Sierra Club found out from determining 5-star dealerships include:
74% of auto dealerships nationwide aren't selling EVs, so we're glad to be in the minority
Salespeople often failed to provide information on federal or state consumer incentives or were poorly informed or uninformative about EV technology, but not in our case
10% of the time when volunteers asked to test drive an EV, the vehicle was insufficiently charged & unable to be driven, which is just sad
Respondents reported that 25% of dealerships contacted that had at least one EV on their lots offered both new & used EVs, which is a sign of the growing market for used EVs
And based on the latest Nissan concept vehicles that have been unveiled, more EV models will be coming to Ramsey Nissan sooner than later. But for now, you can still enjoy the zero-emissions Nissan LEAF that's available at our dealership!